ACH Universal™
Have you been asked to create an ACH (NACHA) file to send to your bank?

ACH Universal allows you to easily create ACH transactions for:
• Direct Deposit for employees
• Collections from customers
• Payments to vendors and governmental agencies
• Consolidating funds between accounts in different banks

Sample ACH / NACHA file



Compatible with In-house systems
ACH Universal is compatible with:
• QuickBooks - direct integration,
• Excel and comma delimited (csv) files,
• SQL Server, and
• all major accounting packages, including Peachtree, Microsoft Dynamics GP/NAV/AX, Sage, ACCPAC, Macola, Epicor, Lawson, JD Edwards, SAP, MAS 90/200/500, PeopleSoft and even Oracle Financials,
• any legacy systems that can export to Excel or a csv file


Are you a QuickBooks users? See our QuickBooks integration module.





Compatible with your Bank
ACH files created with ACH Universal are 100% compatible with your bank.
ACH Universal is updated regularly to insure compliance with all regulations and standard entry class codes.

In fact, our ACH Universal is used in-house by EastPay, a regional NACHA association.

Our clients span government agencies (State of Massachusetts, City of NY), financial institutions (E*Trade, American Express), corporate clients (NASCAR, KPMG) as well as small and mid-sized businesses.



No Risk - Test with your Bank
Download now and install a free, full-working version of ACH Universal to test with your bank.
No credit card needed, no catch. Completely risk-free, no obligation.


Would you rather see it in action?


Watch our introductory ACH video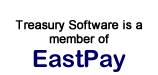 Can't find what you need? Contact us online or at 866-226-5732
© Treasury Software Corp. 1999 - 2013. All rights reserved.
QuickBooks is a registered trademark of Intuit Inc. in the United States and other countries, used under license.
Feeling nostalgic? Visit our original menu at ACH
All rights reserved.