Electronic Funds Transfer Software

An Electronic Funds Transfer (EFT) is a fairly general term and refers to any computer-based system used to perform financial transactions electronically. Among them would be bank wire transfers, debit card activity, ATM initiated transactions, eChecks, as well as ACH transactions.

In our scenario - most requests for Electronic Funds Transfers are for ACH service and involve one of four categories:
· Pay Direct Deposit to your employees
· Collect from customers
· Pay vendors and governmental agencies
· Consolidate funds between accounts at different banks


12 cent transfers
Transfer funds using your bank's ACH department. The average ACH cost is 12 cents.

There are no transaction fees associated with Treasury Software's ACH Universal™.


Easily Transfer Funds
All of the above Electronic Funds Transfers can be easily accomplished using ACH Universal - either through the easy to use point and click interface - or import an entire batch of transactions from an Excel spreadsheet.





After loading the Electronic Funds Transfers into ACH Universal, ACH Universal will generate an ACH file. The ACH file is a standard format - and contains the detailed payment instructions. You would then upload this file to your bank for processing.



Want to automate the Electronic Funds Transfer process?
Visit Electronic Funds Transfer Automation - no programming required. The Software Integration Kit (SIK) enables you to automate all steps of the Electronic Funds Transfer process.

Questions?
Please call us at 866 226-5732.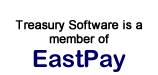 Can't find what you need? Contact us online or at 866-226-5732
© Treasury Software Corp. 1999 - 2013. All rights reserved.