ACH Universal™
Have you been asked to create an ACH/NACHA file to send to your bank?

ACH Universal allows you to create ACH files for:
• Collections from clients
• Direct Deposit for employees
• Payments to vendors and gov't agencies
• Consolidating funds between accounts

Example: ACH / NACHA file



Compatible with In-house systems
ACH Universal is compatible with:
• QuickBooks - direct integration,
• Excel and comma delimited (csv) files,
• SQL Server, and
• all major accounting packages, including Peachtree, Sage, ACCPAC, MAS 90/200/500, Microsoft Dynamics GP/NAV/AX, Epicor, Lawson, Macola, SAP, JD Edwards, PeopleSoft, Oracle Financials and more.
• any legacy systems that can export to Excel or a csv file


Are you a QuickBooks user? Visit our QuickBooks integration module.





Compatible with your Bank

• ACH files created with ACH Universal are 100% compatible with your bank.
• ACH Universal is updated regularly to insure compliance with all regulations and standard entry class codes.

In fact, our ACH Universal is used in-house by EastPay, a regional NACHA association.

Our clients span government agencies (State of Massachusetts, City of NY), financial institutions (E*Trade, American Express), corporate clients (NASCAR, KPMG) as well as small and mid-sized businesses.



No Risk - Test with your Bank
Download now and install a free, full-working version of ACH Universal to test with your bank.
No credit card needed, no catch. Completely risk-free, no obligation.


Would you rather see it in action?






Easy to Setup
ACH Universal is easily installed without MIS support. The Setup Wizard assists you in entering the setup information provided by your bank.


Easy to Use
You can bring in data from virtually any accounting, payroll or billing system. You can even import, or 'Copy and Paste', from an Excel spreadsheet. Once you bring in the data, the system automatically remembers your settings.

Easy to Transmit ACH Files
Depending on your bank's system, ACH Universal can transmit the ACH file via FTP or email, or take you to login to a bank's web portal.

Installed at your location, ACH Universal can be fully automated to accept data from your accounting system, create an ACH-NACHA formatted file, and then transmit it directly to the bank.

Our Easy Steps program assists you throughout the process and contains context-sensitive help. In addition, free phone support is available to help you get up-and-running - quickly and easily.


With ACH Universal, creating and transmitting an ACH file is as easy as:

1) Run a report from your accounting, billing, or industry specific system for the transactions you want to create - and import this into ACH Universal.

If your accounting system cannot store account and ABA/routing numbers, ACH Universal will automatically lookup this information for each transaction.

2) Click 'Transmit to Bank' - the system will create the ACH file (NACHA file format) and transmit it to your bank.

With its built-in scheduler, you can automate the import, file creation and transmission process.

ACH Universal then sends a confirmation email to you, a colleague, your bank, or other recipient that you designate, indicating that the process was completed.



ABA Numbers
Full listing of all ABA - Routing numbers at time of installation. Subscription updates included with maintenance.


Business clients: License ACH Universal and install it directly at your desktop location or server. Our software is compatible with all banks and we ensure that you can create and transmit your file - in NACHA file format.
ACH Payments
ACH Transfers
ACH Direct Deposit
ACH Checks
and CTX-ACH files



Banks: Refer ACH Universal software to your clients.
Or license the software and distribute it directly to your clients.


VAR's (Value Added Resellers): Expand and automate your client's existing accounting package or treasury management system with ACH Universal. Please see our integration information.


Note: ACH Universal is also marketed under ACH Universal to create ACH files in NACHA formats in many on-line resellers and catalogs.


Feeling lost? Looking for Legacy Menu Pages?
Executive Summary
Creating ACH Files
For QuickBooks® users
Getting Started
Features
Pricing
Automation
Email Notifications
CTX-EDI Files
Multiple Accounts
International IAT
ACH-2-Excel
Specifications
Version History



No Risk - Test with your Bank
Download now and install a free, full-working version of ACH Universal to test with your bank.
No credit card needed, no catch. Completely risk-free, no obligation.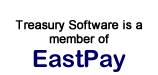 Can't find what you need? Contact us online or at 866-226-5732
© Treasury Software Corp. 1999 - 2014. All rights reserved.
QuickBooks is a registered trademark of Intuit Inc. in the United States and other countries, used under license.
All rights reserved.