Solutions
Treasury Software provides cash management and electronic payment solutions to industries of all sizes throughout North America and the world.

Our product welcome screen below: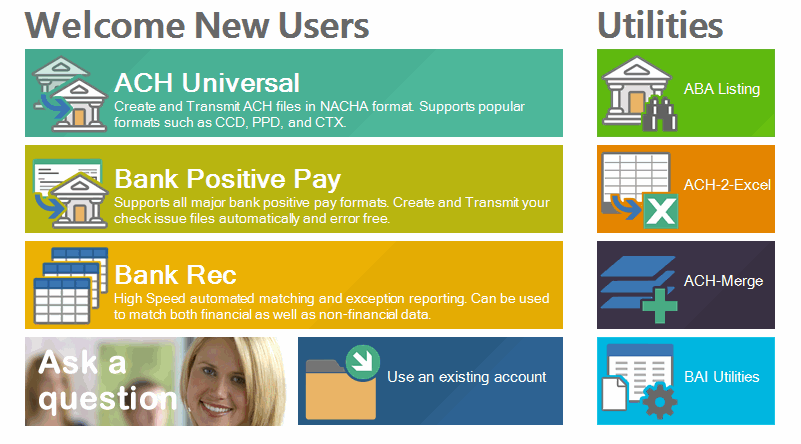 Whether you want to automatically collect or disburse payments; create and transmit check files; automate the bank, credit card or non-financial reconciliation process -or you have other cash management and electronic payment needs- Treasury Software has the solution.
ACH (Automated Clearing House):

ACH Universal™ allows you to easily create and transmit ACH transactions for collections from customers, payments to vendors and governmental agencies, payroll to employees, and consolidating funds between accounts in different banks - in any NACHA standard format.
ACH Universal Trading Partner Edition™ is the first CTX/EDI parsing utility for EPN STP 820 that allows clients to post remittance payments directly to Accounts Receivable, or other in-house system.
ACH2Excel™ converts ACH files to an easily usable tabular format which can be opened in any version of Excel.
Positive Pay:

Bank Positive Pay™ is an automated, secure, easy to use file creation and transmission solution for businesses who want to participate in their bank's positive pay service.

Reconciliation:

BankRec™ imports bank and general ledger data, credit card data, CUSIP or other data, and matches them - automatically and error free. Then you can identify, track and resolve exceptions. Full reporting capabilities are also available.

BAI2Excel™converts BAI files to comma delimited files (CSV) which can be opened in any version of Excel.

---
Custom Solutions:

Treasury Software provides a range of custom programming solutions for all industry needs.

Treasury Software solutions have passed Microsoft's rigorous independent testing facility and have achieved the highest level of quality and performance. Because we are a client-side solution provider -not a service provider- there are never any ongoing license, volume or usage fees.
Easy. Automated. Secure. These are the hallmarks of Treasury Software Solutions.

Can't find what you need? Contact us online or at 866-226-5732
© Treasury Software Corp. 1999 - 2013. All rights reserved.