ACH CTX XML



NACHA's XML-ACH Remittance Information Opt-in Program (XML-ACH) provides standards and rules for using XML formatted remittance information in CTX (Corporate Trade Exchange) addenda records (see https://www.nacha.org/XML-ACH-Remittance).
Treasury Software's ACH Universal product supports XML-ACH. Follow the instructions below for accessing a demonstration of how XML-ACH works.
If you are new to CTX, please visit our ACH-CTX page for an overview of this Standard Entry Class Code.


Creating ACH-CTX XML files with ACH Universal™
1. Download and install ACH Universal (37 MB)

2. Step-by-step instructions to configure the remittance records from EDI to XML and create test files.

3. Request a free license to keep on testing, and allow colleagues to test as well.
This link will take you to our 'Contact Us' page. Include in the message that you wish to participate in the XML-ACH Opt-in program.

Create ACH CTX files with XML addenda / remittance records: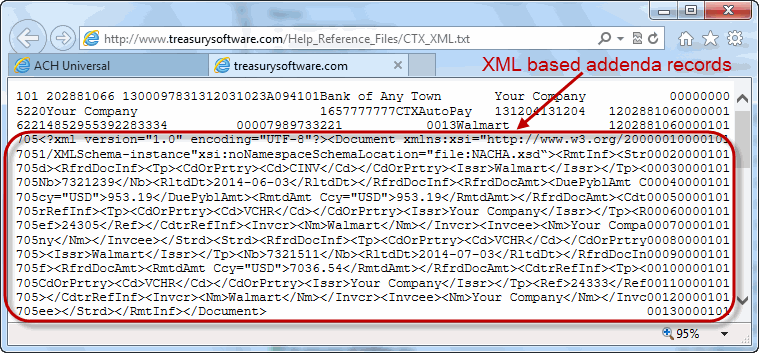 Reference:
Sample XML-based ACH-CTX file.
Sample EDI-based ACH-CTX file (as a guide for comparison).


Support:
Software and usage - contact Treasury Software Support
Standards questions/issues - please visit NACHA's website at https://www.nacha.org/XML-ACH-Remittance
Support in ACH Universal for XML segments is 100% compliant with the EPN STP 820 transaction set for EDI.


Can't find what you need? Contact us online or at 866-226-5732
Return to the referring NACHA ACH XML page.
© Treasury Software Corp. 1999 - 2014. All rights reserved.
QuickBooks is a registered trademark of Intuit Inc. in the United States and other countries, used under license.
All rights reserved.