Desktop platform

Treasury Software desktop products are cost-effective and easy to install. They are installed using a simple InstallShield setup file (under 30 MB in size).


The database is file-based and can be easily copied and backed up using tools familiar to most users
The database is located on the local workstation and offers excellent speed and general responsiveness for normal operating loads.
No IT involvement is needed other than local permissions to install software.
The Desktop platform is designed for a single-user. Need multiple users? Consider SQL Express or SQL Server.
<< Back to platform comparison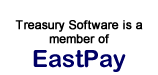 Can't find what you need? Contact us online or at 866-226-5732
© Treasury Software Corp. 1999 - 2014. All rights reserved.