SQL Server platform

Whether you need multi-user access, stronger security, or require greater efficiency, Treasury Software SQL Server products fit the bill.
Enables users to share data in a true multi-user environment.
Meets all known industry, banking and governmental security requirements.
Apply corporate security policies by granting and restricting access to users through the use of roles using familiar tools, such as Microsoft SQL Server Management Studio.
Back up the databases with existing backup tools.
General Setup and Configuration
Treasury Software SQL Server products are installed a simple InstallShield setup file under 30 MB in size.

Install the software on each workstation that needs access to the Treasury Software product. During the workstation configuration, the user will point to the Microsoft SQL Server using a three step Wizard-based setup.
Plays well with others
Assuming that there is sufficient capacity, you can use your existing SQL Server for Treasury Software's databases. Treasury Software does not need to be installed a separate SQL Server.

We take pride in our design - Treasury Software products do not install software of any kind, such as dll's, ocx's, executables - on the SQL Server. Our scripts only create databases and related objects, such as tables, roles and stored procedures.
Authentication
You can utilize either Windows Integrated Security, administered by your Microsoft Active Directory or by direct SQL Server level security. Regardless of the method used, your users will have seamless access without manually logging in.
<< Back to platform comparison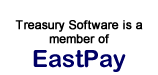 Can't find what you need? Contact us online or at 866-226-5732
© Treasury Software Corp. 1999 - 2014. All rights reserved.