ACH Universal™ Pricing
Edition highlights

All editions of ACH Universal™ enable you to easily create and transmit ACH files for:
· vendor payments
· direct deposit
· customer collections, and
· any other debit or credit application.

Starting at

Standard
$495


Corporate
$995

Processor
$1,995

Import ACH transactions using recurring-profiles or 'On-the-fly'
· Use profiles to store ABA and account #'s for your customers & vendors.
· Import 'on-the-fly' from Excel or another system for non-recurring entries.



Create ACH Files
Not just debits and credits, but also pre-notes, offset and reversing entries.
PPD and CCD included in standard edition, additional formats available.



Transmit to your bank automatically
Built in FTP client with SSL and PGP capabilities for automation.
Web upload to your bank's portal via a web browser for manual sign-in.



Reporting with export to Excel
New Excel-style filtering - quickly and easily find your data.
Export to Excel all standard, customized and audit trail reports.


Save time with new, simplified Automation and Integration tools
Software Integration Kit (SIK) - no programming required.
Automate the ACH file creation process from start to finish unattended.



Additional formats:
· Standard Entry Classes: TEL, WEB, RCK, POP, ARC, IAT, BOC and TXP.
· Addenda records (CCD+/PPD+).



ACH-Merge and ACH-2-Excel utilities
Save bank fees by consolidating ACH files.
Parse ACH files into Excel or csv for further processing.



Full ABA number /routing listing
Lookup by number or bank name
Updated daily*



Process returns - collect bounced ACH transactions faster
Import ACH return files from your bank. Export to Excel.
Electronically re-submit ISF's.



Email notification - reduces bounced collections. Send emails:
· customers reminding them of their upcoming ACH transactions.
· vendors with their remittance information.



3rd Party Senders, fiduciary file creation for payroll processors.
For creating ACH files with multiple origination. Great for payroll, §125 plan administrators and other processors. Includes TXP fiduciary mode.



EDI engine for CTX format - control format at the vendor level
Transmit remittance information via the EDI 820 transaction set with ACH Universal's built-in EDI engine.


Pricing - one time licensing fee
Platform


Single or multi-user

Workstation licenses included
Remote desktop capable


Standard
Edition

Corporate
Edition

Processor
Edition

Desktop

Single

2
-
SQL Express

Multi

3
Yes
SQL Server

Multi

10
Yes
Additional workstations $295
Platforms

Desktop

Single user version for small offices and lower volumes

.

Note: Database must be stored locally (not on a server or other computer).

SQL Express
Single and/or multi-user for up to 5 users. Includes Microsoft SQL Express.
Database engine can be local on a workstation, or remotely on a server.

SQL Server

Multi-user. Scalable and secure.

Requires Microsoft SQL Server.

Database can be kept on an existing SQL Server with other applications.
100% Guarantee
If you're unsatisfied with our solutions --for any reason-- within the first 90 days, we will return your full purchase price. No small print. No questions asked. Your unconditional satisfaction is our guarantee.

100% Upgrade Credit
Apply 100% of your license fees to a platform or edition upgrade within 12 months of your system purchase - or as long as you maintain a support contract.

Support
Each platform purchase includes 90 days free maintenance, including free US-based phone support.

Optional extended annual support: Desktop - $99; All other versions - approximates 18.5% of system price (see on-line store for exact price)

Delivery
All versions - Immediate Electronic Delivery of software. Licenses at time of payment. There are no shipping or handling charges.

Discounts
A discount is available when purchasing more than one program (30% off the second title).

Platform license note:
* SQL Express - Maximum of 5 workstations recommended.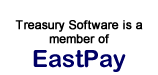 Can't find what you need? Contact us online or at 866-226-5732
© Treasury Software Corp. 1999 - 2014. All rights reserved.