Subscription vs. traditional licensing

Licensing FAQ's
One-time traditional
Subscription
Software location
You download the software and run it at your location.
Same

License fees
One-time fee.

Same fee every month. No setup or cancellation fees.
License term
In perpetuity - never ends.
Month to month, you can cancel at any time.
Access to software corresponds to license term.
Support
Not included. Support is additional.
Included in the monthly price.
Payment method
Use any payment method in our on-line store.
US-based credit card for our recurring billing feature.


Advantages
May be less expensive for the long term, especially if you go without support.
Excellent for banking clients to help increase participation, especially for SMB clients.
Very popular in 'bridge' and other short-term projects.
Provides everything in one package - phone support, updates, major upgrades and licensing in a fixed budgeted amount.
No up front cash outlay.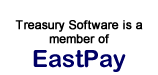 Can't find what you need? Contact us online or at 866-226-5732
© Treasury Software Corp. 1999 - 2014. All rights reserved.