Our goal is to help you, the Bank Administrator, increase your clients' participation in your Positive Pay and ACH programs.

Compatible with your Bank Software
Bank Positive Pay and ACH Universal are compatible with all major core processing packages in the US, Canada and UK including: Fiserv, Jack Henry, Metavante, SunGard, Probanx, Open Solutions, Carreker, ITI and other leading providers.

We can format the transmission for any issue file or ARP format, and include any detail - including dynamically created headers and footers.
Through our Private Label Service, we customize our software to enable your customers to transmit to you, in your format, the data needed to run Positive Pay and ACH. The software will be: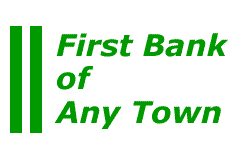 • Pre-configured with your transmission file layout
• Able to prompt the user for additional information, such as bank account number
• Professionally packaged in an InstallShield™ single install file

You can distribute the file from your website, on CD, or we can distribute it for you.

Why Refer or Distribute Client-Side Software to your Customers?

High technological start up costs are the #1 reason why businesses don't participate in bank treasury management services such as Positive Pay and ACH.

Typically, small to mid sized clients don't have the resources to extract and transmit records from their accounting package and must rely on outsourced custom programming.

These outsourced projects can vary in quality, scope, feature set, security, integrity, performance and cost.

Our award-winning software privides your clients with a cost-effective, automated, easy-to-use solution so they can participate in your bank's treasury management services.
By referring or distributing our software, you can increase client participation in these services, control the quality of their transmissions, and receive files 'ready to post.'

Clients love this software, as it is easy to install and easy to use. If your clients are comfortable with Microsoft Office, they will be comfortable and familiar with the layout of our program.

Does My Bank Incur Any Costs?
No. Our Private Label branding service is free to banks, and is available to all US, UK and Canadian chartered banks. There are no contracts, minimum volume requirements or costs to you.

With our Private Labeling service, you can offer two payment options to your clients:
• one-time, or
• monthly
Please contact us for more information.

Getting Started.
There are no contracts or paperwork to fill out. Simply contact us and provide the following information:
--Your bank's file format and transmission information
--A sample transmission file

Want to learn more? Call 866-226-5732.