System Integration
All of our core products - including all reconciliation versions and BankPositivePay™- can be fully integrated with existing accounting packages and other in-house systems.
We provide integrators, both VAR's and corporate in-house development teams, a simple command line syntax to start the program and run various routines for any or all accounts.
Our software can be triggered programmatically through our command line, or through our built in scheduler.
In addition to triggering any combination of standard modules (import, matching, file creation, file transmission, backup), the system can also trigger any custom modules.
For detailed information on integration, see our Knowledge Base article KB2098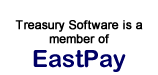 Can't find what you need? Contact us online or at 866-226-5732
© Treasury Software Corp. 1999 - 2014. All rights reserved.