Automated Clearing House (ACH):
Challenges and Solutions

According to the Federal Reserve, the number of electronic payment transactions has exceeded the number of check payments in the United States for the first time. One type of electronic transaction - Automated Clearing House (ACH) - has experienced significant growth.
Direct deposit of payroll, Social Security and tax refunds, debit payments on the Internet, business-to-business transactions, and direct payments of mortgages and utility bills are all examples of ACH payments.
According to NACHA, the electronic payments association, more than 12 billion automated clearing house (ACH) payments were made in 2004, a 20 percent increase over 2003. This growth has been fueled, in part, by the introduction of the Check Clearing for the 21st Century Act -better known as Check 21- a federal law that took effect in October, 2004. Check 21 was developed to improve the overall efficiency of the nation's payments system. Its introduction has encouraged a greater awareness of the financial and anti-fraud benefits associated with electronic payments.
However, according to a 2005 study by NACHA on the awareness and usage rates of ACH services by small and medium size businesses (2-49 and 50-499 domestic employees, respectively, based on Dun & Bradstreet figures), there is a sizeable gap in the two markets between awareness and usage.
Key findings include:
*Almost 75 percent of small businesses are aware that Direct Deposit can be used for payroll applications but only 26 percent of them are using it for this purpose.
*Only 31 percent of medium businesses and 22 percent of small businesses are using the ACH network to electronically pay business partners.
*Forty-two percent of small businesses that do not use ACH felt that it was designed for larger businesses.
The electronics payment industry is actively reaching out to small and medium size businesses to strengthen the message that the ACH network is available to all businesses, not just large corporations. Industry experts suggest that the small to mid-sized markets represent the greatest opportunity for growth in this field.
One of the most commonly cited barriers to ACH participation for small to mid-size businesses is the inability to automatically create and transmit files in a format accepted by financial institutions. Treasury Software's ACH Universal ™ provides a secure, easy and automated file creation and transmission solution for businesses of all sizes.
Treasury Software develops a range of cash management and secure payment solutions for business including ACH, positive pay, BAI, bank reconciliation, and credit card reconciliation. Designated a Verified for Windows XP software application by Microsoft, Treasury Software is a Microsoft Certified Partner and Winner of the Gold Cup Award from CPA Software News. For more information: www.TreasurySoftware.com or 866-226-5732.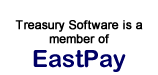 Can't find what you need? Contact us online or at 866-226-5732
© Treasury Software Corp. 1999 - 2014. All rights reserved.